Annual events
Chennai Coastal Cleanup/5, India Clean Sweep, Jun 14
Navigator Bootcamp, Apr 14
18 teams complete 7 hands-on assignments over 3 weeks to master the art of navigation.
Announcement Navigator Bootcamp
Assignment 1 - Navigating your neihborhood
Assignment 2 - Navigating a small hill and bearings
Assignment 3 - All about Lats and Lons
Navigator Bootcamp - interactive workshop
Assignment 5 - Trail planning, ridges and valleys
Assignment 6 - field practice
Assignment 7 - post trail/GPS log analysis
Completed teams, members and certificate
On the occasion of our 6th birthday and for the 5th consecutive year CTC brings you a wonderful cast of speakers from across South India to talk about their passion on the areas of wildlife, nature, conservation, sports, photography. March 8-9 - reserve the dates, get inspired !
CTC Turns 6 next month - We bring you 75 outdoor events over 4 weekends on Trekking, Cycling, Biking, Photography, Social, Family, Environment, Rock Climbing, Workshops and Sports. Pick your favorite events and reserve the dates
Dawn To Dusk Marathon, Jan 14
Chennai Trekking Club co-organized this fund raising marathon with founder Neville J Billimoria, Chennai Runners, Dream Runners, Tamilnadu Cycling Club and others. CTC was in charge of the Kids run in which 2000+ children participated. Total headcount was 6000 runners/cyclists. 200+ CTC volunteers supported this event.
Chennai Iron Triathlon, Dec 13
India's first Full Iron Distance Triathlon
Chennai Trail Marathon, Oct 13
Announcement
Prep email
Prep email2
Prep email3
Post event
Photo Links & Timings
Certificates & Photo Links
Indian Express Article
Thank you!
Chennai Triathlon, July 13
Chennai Coastal Cleanup/4, June 13
The fourth edition of our yearly mega-coastal cleanup to spread awareness on conservation of natural inheritance around our polluted metros.
Announcement
Event Brochure
6th week update
The Hindu article
Dinamalar
The Hindu School edition
Metro Plus
Summary
Video
Treasure Hunt III, Apr 13
Chennai Triathlon, Mar 13
Trek Polamaa IV, Mar 13
Trek Polamaa IV
, 4th edition of our symposium on outdoors, nature, adventure, environment and conservation
Program & Speakers
CTC Turns 5 - 40+ outdoor events, Feb 13
CTC celebrates its
5th birthday
organizing 40+ outdoor events spread over 1 month including trekking, cycling, biking, photography, workshops, triathlon, social treks and conservation initiatives.
CTC Turns 5!
Group Photos
Kids run @ Neville's Dawn Till Dusk, Jan 13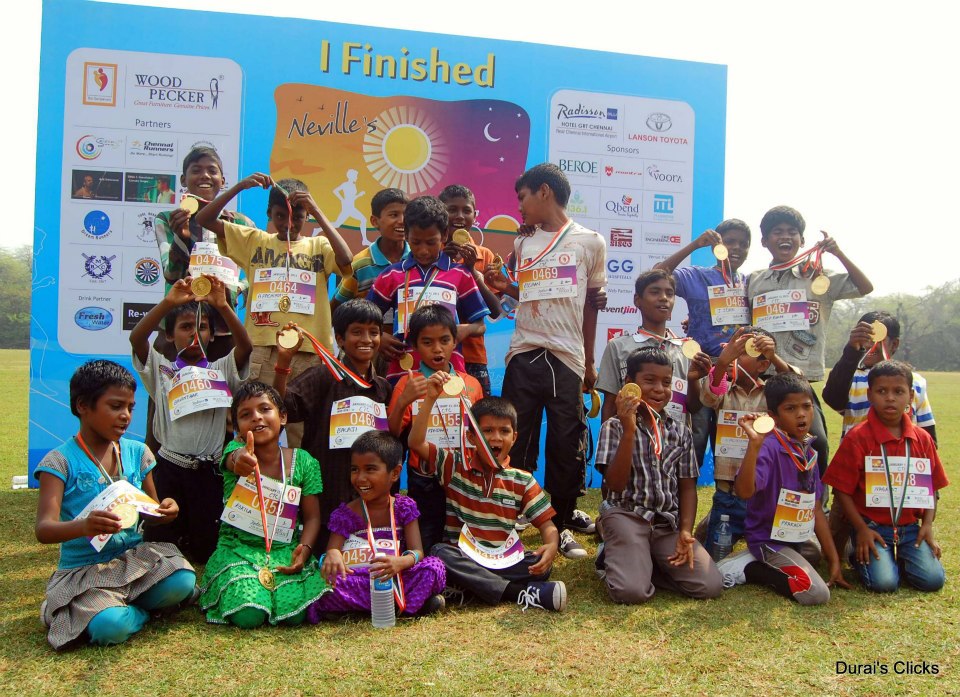 Fund raising event for Bal Sanjeevani Cerebral Palsy Rehab Centre for God's Own Children. Neville J. Bilimoria has been the main force behind this great event.
The Kids Run was organized by CTC as part of this fund-raising event
Summary of the Event
Tree Plantation Drives, 2012
CTC's green cell organized more then 10 tree plantation drives throughout the year planting more then 1000 sapplings.
Plantation Drive VII
Plantation Drive at SMK FOMRA
At Royal Garden, Kattupakkam
CTC's Triathlons, 2012
CTC organized 4 Triathlons through second half of 2012 in Chennai and Nagalapuram including Enticer, Sprint, Olympic and Half Iron distance.
Olympic Jungle Triathlon in Nagala
Half Iron distance Triathlon at Nagala
Swim like a Fish, Pedal like a Jockey, Run like a Stallion
Enticer, Sprint & Olympic at Chennai
Sprint Triathlon at Chennai
Enticer, Spring, Olympic, Half Iron at Chennai
CTC's Buckingham Canal Marathon, Sep 12
Chennai Buckingham Canal Marathon
, Sep 2012, 500+ runners participated in CTC's maiden marathon, including a kids run and attracting participation from runners across South India including various external groups including Chennai Runners, Dream Runners, Cool Runners covered by The Hindu.
Summary of the Event
Runners Statistics
From Inactivity to In Activity
In the News
Restoration of Devanoor Temple, May 12
Restoration of Devanoor
temple near Guindy, hundred+ volunteers spent several weekends assisting in the restoration of this inheritance of historical importance.
Write up Part 1
Write up Part 2
Photos
Treasure Hunt II, May 12
5 teams searching for and decrypting clues hidden along their way to find the treasure deep inside the mountains. Map reading, navigation skills and physical fitness are key ingredients to win this race.
Introducing the Hunt
Summary of the Mission
The Emperors II
Maverick Meerkats
The Cavaliers
CTC's Trek Polamaa III, March 12
Trek Polamaa III
, Mar 2012, 2-day symposium to create awareness on outdoors, nature and conservation in Chennai inviting various eminent speakers in the Industry attracting more then 1000+ visitors covered by Deccan Chronicle and The Hindu Metro Plus and Jaya TV
Program & Speakers
Speaker Profiles
News Coverage
Summary of the Event
Jaya TV
CTC Turns 4!, Feb 12
CTC Turns 4!
Participation Statistics
Chennai Coastal Cleanup/3, Jan 12
Chennai Coastal Cleanup III
, Feb 2012 was inaugurated by the Chennai Mayor and involved 2500 volunteers from CTC and various companies and colleges like Nokia, CTS, HCL, MindTree, DELL, HP, Greenpeace, IIT Madras, Loyola college, Anna University, DG Vaishnav, Hindustan college and more. The event got covered by major publications like The Hindu and Times of India.
Line up of the Mission
In the News
Summary of the Campaign
Treasure Hunt I, Jun 11
5 teams have to use their expertise in map reading, trail finding and navigation to reach first to the treasure hidden deep inside Nagalapuram
Introducing the Hunt
The Outcome of the Treasure Hunt
CTC's Trek Polamaa II, Feb 11
Trek Polamaa II, Feb 2011, 2-day symposium on outdoor, adventure and nature inviting various eminent guest speakers from the industry in IIT Madras attracting 1000+ visitors covered by The Hindu, Times of India and Metro Plus.
CTC Turns 3!
Speakers & Topics
News Coverage
Chennai Coastal Cleanup/2, Jan 11
Chennai Coastal Cleanup II, Jan 2011, 1000 volunteers consisting of CTC and several colleges, schools, companies and coastal villages cleaned up the entire Chennai coastal line over 15km covered by Times of India, Deccan Chronicle and Dinami. Participation from NOKIA, HP and Anna University.
Start of the Mission
Sequel for a Cause
Write up by participants
CTC's Be Positive campaign, Sep 10
Be Positive
, Sep 2010, in collaboration with Rotary International, awareness campaign on blood donation through 2-day bike rally through Tamilnadu including 250 volunteers inaugurated by the Chennai Mayor , covered by Vikandan, Times of India, Dinami
Overview of the event
Mission Save Tada/2, Aug 10
Mission Save Tada II, Aug 2010, a major cleanup of the Tada Falls, in collaboration with SriCity and AP Forest Department, involving 250 volunteers and school children, covered by The Indian Express and The Hindu NXG
The Startup
Outcome, Photos, News
Channel uFX,
Part 1
,
Part 2
,
Part 3
Chennai Coastal Cleanup/1, May 10

Chennai Coastal Cleanup I, May 2010, massive cleanup including 900 volunteers and 15km of beaches including major companies like Nokia, HP and covered by The Hindu, NXG, Times of India, NDTV Hindu television
Plan of Action
Results
In the News
CTC's Trek Polamaa I, Mar 10
Trek Polamaa I
, Mar 2010, 2-day symposium on outdoors & nature in Chennai inaugurated by Mr Napolean union minister of state, attracting 800 visitors, The Hindu, Chennai Online and TV channel uFX.
Program and Speaker Schedule
News coverage, presentations
Mission Save Tada/1, Nov 09
Mission Save Tada I
, Nov 2009, 250 volunteers cleaning up famous Tada falls collecting 2 tons of garbage, covered by The Hindu, Indian Express, Economic Times, Eenadu television
How it started?
Outcome and results
Interview on ETV